Lenovo had announced that there will be a new Motorola conference in Shanghai on September 8. Naturally, there were speculations that the company might release the new Moto 360 II watch at the event in Shanghai. Now the rumors are almost confirmed. Earlier today, Lenovo released a new teaser via Weibo with the tag line "It's time". Below these words  lies the image of a new Moto smartwatches which is none other than the Moto 360 II. In fact, the image confirms the earlier leaks which showed that the physical button has been moved to the 2 o'clock position.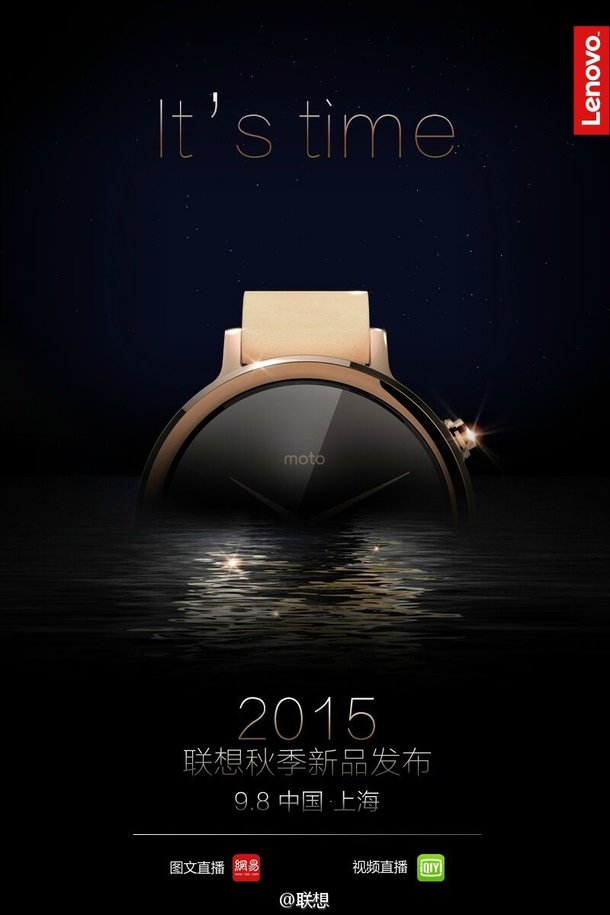 We also know a bit about the variants of the new Moto 360 II smartwatch. It is said that the watch will come in two versions, the 360S and the 360L. The former will feature a 1.37-inch display equipped with 270mAh battery with a dial size of 38mm and strap size of 20mm, while the latter Moto 360L will feature a slightly larger 1.55-inch display with a 375mAh battery, 46mm dial and a 22mm strap. It is also said that the watch will come with Chinese interface for the domestic market.
According to Upleaks, there's even a Sport Version in the works. The sport version will come with a hybrid display ideal for outdoor use, with other features such as 3ATM Water Resistance, GPS, and Barometer. While the 360L and 360S are expected to be released in September, the Moto 360 II Sport will reportedly debut in November.